Description
HMI nowadays is empowered with a wide variety of capabilities, such as data display, machine control, data storage, PLC communication, protocol translation, graphical display, alarm notification, media playback, and IIoT integration. For an advanced HMI, these capabilities are perceived as basic requirements, but at the same time they do put heavy burden on HMI's computing units. Meanwhile, as people these days get used to operating speedy consumer devices like smartphones and tablets, they seek and expect similar experience and operation speed when working with an HMI. For the reasons mentioned, Weintek now releases cMT X Series HMI: cMT3092X / cMT3152X / cMT3162X. cMT X Series, boasting the most powerful processor compared to those adopted by similar products, can overcome the most difficult computational challenges to meet all the expectations for a high-speed HMI.
The brand new cMT X Series is upgraded in every aspect compared to its predecessors, cMT3090 and cMT3151. Equipped with A17 quad-core CPU, the cMT X Series has 4 times more computing power*, and even 12 times* more graphics processing power thanks to its high performance dedicated 3D processor. For users who adopt "cMT HMI + CODESYS controller" solution, the powerful processor ensures that cMT X Series delivers swift and smooth operating experience even with CODESYS running.
cMT X Series models feature comprehensive peripheral connectivity, including dual Ethernet ports, RS232, RS485 2W/4W, and CAN Bus communication ports, USB Host port, and built-in mono speaker. It also provides what cMT Series already offers, such as the innovative cMT software architecture, powerful and extensive PLC connectivity, IIoT integrability, EasyAccess 2.0 remote service, and pass-through support. Apart from rich functionalities, the appearance of cMT X Series is characterized by distinctive minimalist black design and silver frame that accentuate its well-polished look and superior quality. In addition, cMT3162X adopts the oTP integrated touch solution which helps to realize a lighter and slimmer design while offering unprecedented high-resolution, high-transmittance visual experience.
With the release of the cMT X Series, the following enhancements that deliver novel user experience will be available as well: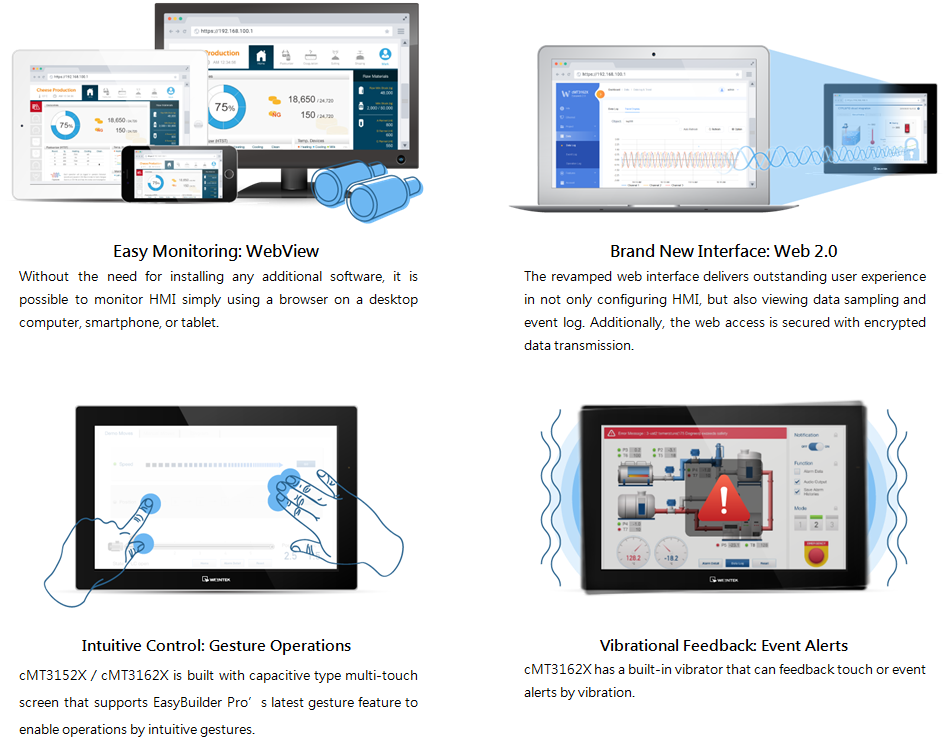 The hardware and software advantages makes cMT X Series an easy fit in diverse applications and a key role in system integration.